Recurring Monthly Membership
$30.00 / month
Description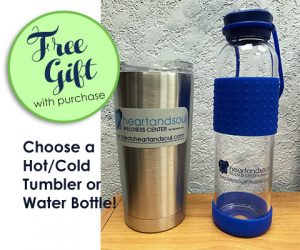 Includes unlimited fitness classes every month at Heartandsoul Wellness Center. Subscription renews automatically every month. You can contact us to cancel anytime.
no long term contracts!
no up-front fees!
FREE GIFT with purchase for limited time only! Your choice of a custom Heartandsoul Wellness Center water bottle or cold/hot tumbler.
---
By purchasing a membership, the member agrees to follow program guidelines and assume any and all responsibilities and risks associated with my participation at heartandsoul (SLK Wellness LTD) I further agree to forever refrain from instituting, pressing or in any way aiding in a claim, demand, action, or cause of actions, against heartandsoul, SLK Wellness LTD, or it's owner, employees or staff members for damages, costs, loss of services, expenses of compensation for, or account of, or in any way growing out of my participation in any heartandsoul program. Furthermore, I, the undersigned, intending to legally bound for myself, my heirs, executors and administrators, herby release heartandsoul, SLK Wellness LTD and their representatives, successors and assigns from any and all liability arising from my participation at heartandsoul. I am not under any restrictions from a doctor. I have not been told that I should not participate in exercise activities.
---
Are you a new member? Save time! Download and print the medical release form, fill it out, and bring it with you on your first visit.